I was thinking about how to start off this blog in a way that would paint an accurate picture of what I intent to offer.  I wanted to contribute to this blog specifically to share my thoughts on illustration and design, and to provide designers with inspiration from the world of illustration.  Through my first few terms at Art Center, I have come to realize how little labels mean, and how important it is to be open minded in my exploration of art and design.  It is my personal philosophy that not enough graphic designers see themselves as artists, and that if they embraced this role, even just a little, it would only serve to benefit their explorations.
So I concluded that I should start off by sharing one of my favorite illustrators, who has both influenced me as a designer and as an artist.  My absolute favorite contemporary artist is the wonderfully low-brow Joe Sorren. His work can be viewed at his website or here. Below are a few of my favorites.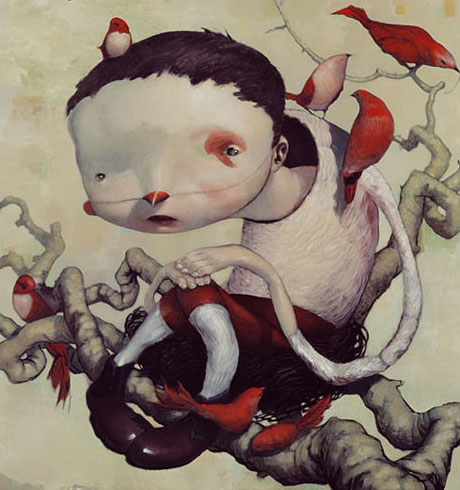 I could write an entire essay describing what makes Joe Sorren such an amazing artist, so I'll just focus on what I think is most relevant to designers: color.  Sorren has an intrinsic ability to move the eye through the composition, create emphasis,  rythm, and establish strong emotional arcs simply through his use of color. Designers and Illustrators always seem to have different ways of working with color, probably due to the difference in medium, which is why I think It is so valuable for designers to explore color not just from a graphic design perspective, but also from an illustrative perspective.  So this is my personal challenge to all designers out there: take a second look at the world of art outside of graphic design, you may be surprised at some of the parallels you find.